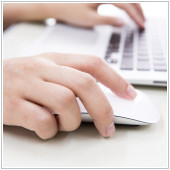 Have you been using the same mouse for several years now? If you're feeling discomfort in your mouse clicking hand, then it's probably time to consider an upgrade. The perfect mouse lets you work efficiently, easily, and safely. So the next time you're in the market for new mouse, keep these tips in mind.
Cable or wireless?
Choosing between a wired or a wireless mouse is a factor you have to consider if you're planning on purchasing a new mouse. Wireless mice are generally more comfortable since your range of movement isn't limited by a cable and they're usually travel friendly. However, they tend to be less responsive, which can be frustrating.
In some cases, wireless mice can also interfere with other wireless devices nearby, and most require batteries, which can create problems when they run out of juice. And, if you use the same mouse for both work and home, you run the risk of losing the tiny USB receiver for your wireless mouse when you travel.
On the other hand, wired mice are cheaper and easy to plug-and-play. The only problem you'll have to worry about is dealing with tangled wires. So when you're deciding on a new mouse, think about whether you're looking for comfort or convenience.
Ergonomics matters
You're going to be using the new mouse for a while, so it's important to choose one that feels comfortable in your hands. When deciding on the right mouse, focus on the size and the grip of the device. The size of the mouse usually comes down to hand size. For example, someone with smaller hands might find larger mice quite unwieldy.
Certain mice can also accommodate different types of grips -- fingertip grip, palm grip, and claw grip. Users who want high-precision control of their cursor should opt for a mouse with fingertip grip, those needing comfort should get a palm grip mouse, and if you want both control and comfort, the claw grip mouse is the way to go.
DPI (dots per inch)
Higher sensitivity is necessary for precise mouse movements, especially if you're editing images, videos, or audio files. Mice with 1200 DPI or greater guarantee finer control.
Although mouse specifications like DPI might be the last thing on your mind when it comes to buying new hardware, your comfort is important. A good mouse with the right fit can make you more efficient and reduce the risk of injury.
If you need assistance setting up the best hardware for your company, give us a call. We're happy to help.
Published with permission from TechAdvisory.org.
Source.