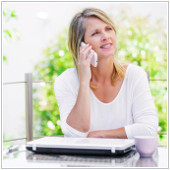 Productivity levels tend to go down when the job is too stressful or commutes are too long. So, what can you do to get your employees to be more productive? Remote work strategies enabled by cutting-edge VoIP technology may be the answer. Here, we explain how small businesses and their employees can benefit from work-at-home strategies paired with VoIP.
It's good for business
Many businesses have misconceptions about their employees who choose to work from home. They assume that their employees will be less productive if they are not within the office environment, but this could not be farther from the truth. VoIP services can empower your small business and work-at-home employees in a number of ways:
VoIP technologies allow you to keep your employees on track with an array of management tools like barge, monitor, and whisper, which allow you to coach and micromanage your employees.
The cost of business resources, furniture, space and sick days are reduced when there is an effective way for your employees to work at any location.
VoIP services promote continued collaboration between employees even if some of them are not in the office, allowing workflow to be more efficient.
As a business owner, VoIP gives your company more opportunity for growth such as by allowing you to communicate and hire people from different countries with minimal cost.
Perks for employees
Work-from-home policies with VoIP systems are also good for your employees. As more of their workload is digitized, working from home or anywhere else has never been easier. In fact, studies have shown that employees who took days to work from home were actually more productive. Part of this is because it gives them a break from the stressful office environment and, with a VoIP service readily available to them, they feel as if they haven't missed a day's worth of work. With the right VoIP systems installed, employees can easily collaborate with co-workers.
Using VoIP at home also saves your employees from long and costly commutes. They can simply pick up their VoIP device and join a conference meeting without physically being in the boardroom. What's more, employees who want to recall important events during conferences or seminars can use the VoIP call recording feature. This way, employees can make sure they are correctly approaching their work in their own time.
VoIP requirements for remote workers
If you're convinced that working from home is a good solution for your company, it is essential that your chosen VoIP service provider offers the following features:
Voicemail – records missed calls and sends you an email of the audio file
Call forwarding – allows your employees to redirect calls between VoIP devices and their smartphones
Whisper, monitor, and barge – lets you monitor calls for quality control purposes and even coach employees without disrupting the call
Third-party integrations – streamline processes and enable employees to give instant feedback when collaborating on platforms like Office 365
Many companies are now benefiting from a mobile and remote work environment. Although work-at-home strategies may seem like a risky venture, making the most out of your VoIP technologies will keep your employees happy and productive. If you want to learn more about the VoIP services that we offer, give us a call.
Published with permission from TechAdvisory.org.
Source.