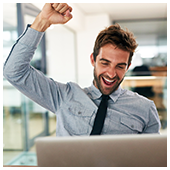 Are you bothered that Office 365 and Windows 10 are sold separately? If so, you're not the only one, and thankfully, Microsoft has devised a solution to streamline your purchases. Here's everything you need to know about Microsoft 365.
Microsoft 365 caters to the workplace by combining Office 365 and Windows 10 into one solution, which is available in two plans: Microsoft 365 Business and Microsoft 365 Enterprise.
Microsoft 365 Business
Designed for small- to medium-sized companies, this bundle includes some of the best productivity tools, security, and device management capabilities that Microsoft has to offer.
Productivity apps:
Access, Publisher, OneNote, Outlook, PowerPoint, Excel, and Word
SharePoint, Microsoft Teams, Skype for Business, OneDrive, and Exchange
Business tools from the Office suite (Microsoft Invoicing, MileIQ, Outlook Customer Manager, and Bookings)
Enterprise-grade security and device management capabilities:
Intune App Protection for Office and other mobile apps
Exchange Online Archiving to back up, preserve, and protect your data
Windows Defender Exploit Guard and Office 365 Advanced Threat Protection to keep your system safe from sophisticated malware and external threats like phishing
Additional services:
Regular updates for Windows 10 and the Office 365 apps
Automatic installation of Office apps on all Windows 10 devices
An admin console for managing and setting up devices and users
Microsoft 365 Business is available in three pricing plans: Office 365 Business Essentials, Office 365 Business Premium, and Microsoft 365 Business.
Microsoft 365 Enterprise
Microsoft 365 Enterprise is designed for larger companies.
Productivity cloud-based and local apps:
Office 365 ProPlus, including apps like Outlook, PowerPoint, Excel, and Word for your Mac or PC
Online services for meetings, collaboration, file storage, email, and more
Windows 10 Enterprise, which includes app and device management features, providing users with the most secure version of the operating system yet
You can subscribe to Microsoft 365 Enterprise through three plans: E3, E5, and F1.
By choosing the right subscription model, you'll be able to make the most out of Microsoft's growing number of service offerings. If you're looking to upgrade to Windows 10 and have any questions about the operating system, or are wondering which of the two plans to choose, give us a call today.
Published with permission from TechAdvisory.org.
Source.