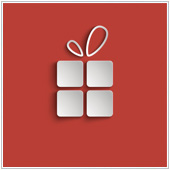 It's the season of giving, and there's no better way to show your generosity than by giving an Android tablet as a gift. But with the seemingly endless choices of tablets in the market, how do you choose the perfect gift? Look no further and start here.
What's your budget?
Giving gifts shouldn't burn a hole in your pocket. The great thing about Android is that there are tablets available for a wide budget range, from the ridiculously affordable yet highly praised Amazon Fire HD 10 (from $149.99 on Amazon.com) to the top-of-the-line Samsung Galaxy Tab S6 (from $795.99).
What do reviews say about the product?
Consider expert reviews before buying an Android tablet. There are a ton of websites dedicated to reviewing tablets and other mobile devices. Take for example the well-known Engadget, or Trusted Reviews. Sites like these generally give a good overview of new and popular devices. However, pay close attention to the criteria used, as some review sites tend to only look at basics, such as battery life and design, without going too deep into the tablet's usability.
It is also important to look at actual user reviews. The best place for these is Amazon.com, as almost all reviews of devices on the site are submitted by users. While some reviews may be overly positive or negative without actually revealing reasons, they provide an accurate real-life picture of the pros and cons of buying the device.
What will the tablet be used for?
Many tablets offer special features and functions aimed at different types of users. For example, if the user will use the tablet for artistic pursuits, then you should pick a tablet with pen support, which turns the tablet into a drawing pad. If the user is likely to use the tablet for gaming, then consider how well the device can display graphics, how fast it can run popular games, and how much storage it has.
Who will be using the tablet?
Tablets have become specialized, with specific designs catering to specific markets. You can narrow down your options by taking into consideration the age of the person you're giving the tablet to. For instance, if the tablet is going to be used by kids, then shop for one that's specifically made for them, like Amazon Fire HD 8 Kids Edition and Samsung Galaxy Tab E Lite. These tablets have bright, kid-friendly interface and design as well as hard cases built to withstand boisterous play. Most kiddie tablets also come with a warranty should unfortunate incidents happen.
Consider also the user's technical ability. Older adults with limited technology knowledge tend to use tablets for non-complicated tasks like reading, taking pictures, and playing movies. Tablets like Lenovo Tab 4 and Dell XPS 10 have simple interface, big screens, and pre-installed apps that are perfect for them.
On the other hand, advanced tech users like programmers prefer tablets with high performance, long battery life, and options for keyboard and Bluetooth connection. For these users, you can get a tablet PC, or a PC with a detachable screen that can double as a tablet.
If you're struggling to find the perfect tech gift or Android tablet this holiday season, let our experts help you find what you need. Contact us today.
Published with permission from TechAdvisory.org.
Source.