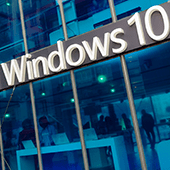 Before, whenever Microsoft's hardware partners released updates on their drivers, those updates caused multiple problems for Windows 10 users. To resolve that, Microsoft revised the way it updates Windows 10.
First, let's distinguish between driver updates and operating system (OS) updates:
Driver updates – A driver is software that allows your computer's OS to communicate with various hardware devices connected to your computer. Without a driver, the devices you use — display, keyboard, mouse, modem, motherboard, etc. — will not work properly. Hardware manufacturers update their drivers similarly to any standard computer program. Updates are often enhancements to accommodate new software; for example, a new video game with state-of-the-art graphics will require driver updates for your display screen.
OS updates – Windows 10 receives two kinds of regular updates:
Security updates (every month) consist mostly of security fixes that are quickly installed.
Feature updates (every six months) consist of upgrades to the latest Windows version with enhanced features, often requiring multiple reboots to install.
Problems occur when Windows 10 updates are incompatible with a current driver, or when driver updates are released around the same time as Windows 10 updates. In both cases, compatibility issues result in automatic non-installation of updates and startup failures.
To address this issue and improve user experience, Microsoft has changed the way it updates.
#1 Microsoft now allows its hardware partners to request upgrade blocks
Before, Microsoft put up an upgrade block when there were compatibility issues with certain drivers. But now the Redmond-based company is allowing their hardware partners like Intel, RealTek, and others, to request for upgrade blocks if they know their driver is not yet validated. This temporary Windows Update block period is between 30 and 60 days. Once the driver has been updated, then the Windows Update block will be removed.
#2 Microsoft bans new driver releases during holidays and weekends
To further improve driver update experiences, Microsoft has banned new driver releases during US public holidays and weekends. This is because Microsoft employees are not available to address compatibility issues that crop up after an update. And Microsoft aims to make driver release dates more predictable in the future.
Do you encounter problems with your Windows 10 updates? If you constantly find it difficult to accomplish the updates for Windows 10 or for your drivers, then you should talk to our Windows experts — they'll be more than happy to assist you. Call or email us right now.
Published with permission from TechAdvisory.org.
Source.