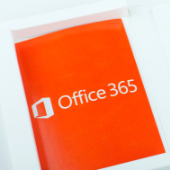 Microsoft recently launched its new slate of consumer service plans: Microsoft 365 (M365) Personal and Family. This will replace Office 365 (O365) Home and Personal, signaling the shift of the company's consumer bundles from just a set of tools to powerful solutions that help you manage both work and life. But Microsoft isn't simply rebranding — it's also introducing new capabilities to its apps. Here's what you can look forward to.
#1 Microsoft Editor
Powered by artificial intelligence (AI), this new editing feature helps you write better by providing advanced grammar and style refinements. It will alert you if you're using a word too often or constructing overly complex or unclear sentences. It can also make language and style suggestions, rephrase full sentences, and check for plagiarism.
Microsoft Editor is now available in 20 languages in Word and as a browser extension in Outlook. Soon, you can also install it as a Microsoft Edge and Chrome plug-in so you can always submit great writing anywhere on the web.
#2 Presentation Coach and updated Designer
Create better presentations using the AI-driven Presentation Coach feature that helps you avoid filler words, grammar mistakes in your speech, and a monotone pitch that may put your audience to sleep.
What's more, the enhanced PowerPoint Designer gives you access to over 8,000 images and 175 looping videos, 300 new fonts, and 2,800 new icons. It also has the capability to convert text into a timeline and suggest potential slide layouts whenever you add an image.
#3 Money in Excel
If you use Excel to manage your personal or family budget, then you'll love the upcoming new feature called Money in Excel that lets you link your bank and credit card accounts and import your data into your spreadsheets. You can also track your transactions line by line, categorize your expenses, and create a monthly spending chart so you can analyze your habits.
#4 Integrated personal and work calendars
Outlook now allows you to look at just one interface for both your personal and work calendars. This prevents your coworkers from setting meetings with you during your blocked personal events. You can also import your child's school calendars so you'll be alerted of their conferences, plays, and other academic events.
#5 Teams for consumers
Microsoft Teams will soon have new consumer-centric features that let you connect and collaborate with your friends and family. So if you already use Teams for work, you will be able to connect it with your Teams personal account and easily switch between those two accounts, just like in Outlook.
#6 Family Safety app
Aside from adding new features to their existing apps, Microsoft will also roll out its new Family Safety app for iOS and Android later this year. Similar to Apple's Screen Time, the app is made to keep your family safe in both the digital and physical worlds.
It lets you see what your children are doing on their Windows PCs, Xboxes, and Android and iPhone devices, and give you an analysis of their time spent on each device, so you can manage their screen time. You can use it to set limits for apps and content filters by age and even block specific websites and games on Xbox. The Family Safety app will also provide you with location sharing and driving reports.
Despite all these new features and upcoming new app, the M365 consumer bundles are still priced identically with its O365 counterparts: M365 Personal at $6.99/month or $69.99/year for one user, and M365 Family at $9.99/month or $99.99/year for up to six users.
To stay updated with the latest Microsoft news and see how these changes can help improve your business, get in touch with our IT experts today!
Published with permission from TechAdvisory.org.
Source.