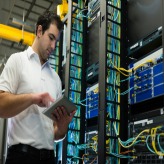 Technology underpins nearly every aspect of modern business processes. The problem is that managing technology can be complex and tedious. This is where managed IT services providers (MSPs) come in. Whether a company needs software to record customers' data, network infrastructure management, or cloud technology, MSPs can provide these services and much more.
MSPs defined
MSPs are companies composed of specialists from various IT fields. They deliver various IT services (e.g., cloud computing, cybersecurity, backup and disaster recovery) and proactively manage their clients' IT systems under a subscription model.
Selecting the best MSP
While there are many MSPs out there, not all of them are equipped to meet your company's unique needs. You can only achieve optimum IT results by selecting the right MSP.
Keep in mind these criteria when choosing an MSP:
Depth of skills and experience – Any MSP should have the skills and experience that go beyond basic software installation, maintenance, and upgrades. They should also have strong expertise in advanced IT functions, such as database management, cloud technology, security, and cross-platform integration, so they can keep up with your company's growing IT requirements.
Financial stability – With IT being the backbone of your business operations, you need an IT partner who will be there for the long haul. Assess their stability by looking into their annual reports and financial statements. Check how many clients they have and their customer retention numbers. Also ask the MSP to provide customer references and testimonials.
Competitive service level agreement (SLA) – An SLA is a contract that dictates the standards that your MSP should be able to meet. It should be able to answer these questions: Do they offer 24/7 support? Can they conduct remote and on-site support? What is their guaranteed response and resolution times? If they fail to meet their committed service levels, are there corresponding rebates or penalties.
Third-party vendor partnerships – Pick an MSP with an ongoing relationship with the technology vendors (e.g., Microsoft, Oracle, Salesforce) whose products you already use in your IT environment. What type of partnership does the MSP have with those vendors? The higher the partnership level, the more vendor certifications the provider has, which means they can bring a lot of expertise to your business.
Choosing the right provider is a very important step that will impact on the performance and success of your business. If you want to learn how MSPs can support your business, contact us today.
Published with permission from TechAdvisory.org.
Source.