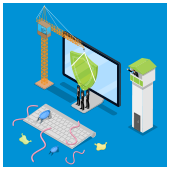 Today's companies need technology to function. Without it, businesses cannot compete and succeed. But with technology comes the ever-constant threat of hackers and cybercriminals. That's why small- and mid-sized businesses need to protect themselves with robust cybersecurity solutions managed by IT professionals.
The numbers
According to the Ponemon Institute's 2019 State of Cybersecurity in Small and Medium-Sized Businesses (SMBs) survey, cyberattacks have increased dramatically. Here in the United States, 76% of companies were attacked in 2019, a significant leap from 55% in 2016. Sixty-nine percent of US businesses reported data breaches in 2019, up from 50% in 2016.
The financial consequences have also increased considerably. The average cost spent by companies because of damage to or theft of IT assets and infrastructure increased from $1.03 million in 2017 to $1.2 million in 2019. Costs due to disruption to normal operations increased from an average of $1.21 million in 2017 to an average of $1.9 million in 2019.
The attacks
Globally, the most common forms of attack on SMBs are those that rely on deception: phishing (57%), stolen or compromised devices (33%), and credential theft (30%). Worse, cybercriminals are targeting SMBs more, with reported attacks having increased from 60% in 2017 to 69% in 2019.
Why managed services?
Partnering with MSPs is the most effective way to prevent attacks and protect your business from malicious threats. MSPs offer a full range of proactive IT support that focuses on advanced security, such as around-the-clock monitoring, data encryption and backup, real-time threat prevention and elimination, network and firewall protection, security awareness training, and more.
And because managed services are designed to identify and fix weak spots in your IT infrastructure, you'll optimize the digital backbone of your business processes. You'll have faster network performance, a solid business continuity and disaster recovery strategy, and minimal downtime. One of the best things about managed services is that you get a dedicated team of IT professionals ready to assist you for any technology problems you may encounter. This is much more effective and budget-friendly than having in-house personnel handling all your IT issues.
Being proactive when it comes to cybersecurity is the only way to protect what you've worked hard to build. If you'd like to know more about how managed services can benefit your business, just give us a call — we're sure to help.
Published with permission from TechAdvisory.org.
Source.