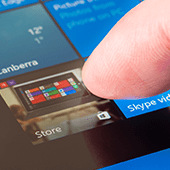 If you've been waiting for updates on Windows 10, here's some good news and more! Microsoft will very likely release big updates to the OS in 2021. Additionally, the tech giant is expected to introduce new services designed to maximize user experience across a wide range of devices.
What's new on Windows 10?
Microsoft tends to release major updates followed by several smaller ones meant to implement minor feature changes and improvements. This likely won't be the case in 2021.
Sources indicate that the first of two updates will be released sometime in the spring next year. It will be a servicing style update similar to those released in the latter halves of 2019 (19H2) and 2020 (20H2). To illustrate, the 19H2 update included improvements in battery usage efficiency, while the 20H2 update focused on enhancing general performance and quality. The spring update (21H1) will likely be in preparation for the bigger one (21H2) coming around the fall.
Next year's major update will likely enable x86 64-bit Windows 10 to be emulated on computers that use ARM processors. This is good news if you use ARM-based computers, such as Microsoft's very own Surface line of notebooks. With the update, you will be able to run legacy Windows programs on your device.
Windows 10X
Google's Chrome OS might not be as feature-rich as Windows 10, but its lightweight nature and simple interface make it a hit among users who want a fast and straightforward operating system. That it is exclusively built into light, compact, and affordable notebooks — called Chromebooks — certainly adds to its appeal.
Microsoft's Windows 10X is purportedly its answer to Chrome OS. It's a lightweight version of Windows 10 designed to perform well even on low- to mid-range computers. Windows 10X also boasts an updated, modern-looking interface, formidable security, and excellent battery efficiency.
Like Chrome OS, Windows 10X will be exclusive to a specific line of computers which, according to reports, may include ARM-based and foldable devices. Windows 10X will likely become available in the earlier half of 2021.
Cloud PC
Windows 10 Cloud PC is a service that allows you to install applications to a version of Windows found on the cloud. Both the apps and the OS are streamed to your computer and use very little of the machine's power. This makes it a great service for computers with low memory or ones that suffer from weak performance. Any apps installed via Cloud PC will appear on your Start menu as if it were installed locally on your machine.
Cloud PC will likely be an integrated service with both Windows 10 and Windows 10X. Windows 10X devices likely will not come with win32 local support, although the feature may be added in a future update. You can resolve this issue by installing your win32 programs on Cloud PC and streaming them via your Windows 10X device.
Microsoft has yet to confirm the exact nature and scope of their upcoming updates and services, but we can make educated guesses. In any case, it seems users can look forward to improved performance on Windows 10, as well as more opportunities to save money and get more out of their tech investments. If you need recommendations on how to take full advantage of these updates and new services, just give our experts a call.
Published with permission from TechAdvisory.org.
Source.