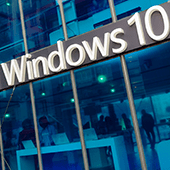 Windows 10 users are well aware that installing updates can take a long time. We hear users complaining about it all the time. Why are Windows 10 updates so slow, and what can users do to speed things up? Here's our take.
Windows 10 updates take a while to complete because Microsoft is constantly adding larger files and features to the operating system. The biggest updates, released in the spring and fall of every year, take upwards of four hours to install if there are no unexpected glitches. The process takes even longer if you have a fragmented or nearly full hard drive.
In addition to the large files and numerous features included in Windows 10 updates, internet speed can significantly affect installation times. This is especially true if your office network is overburdened by multiple people downloading the update at the same time.
However, if you still experience slow speed even when there aren't simultaneous downloads, then it's likely that there is a problem that is preventing the installation from running smoothly.
When you experience slow updates, try the following:
1. Free up storage space and defragment your hard drive
Windows 10 updates often take up a lot of hard drive space, so you need to make room for them to speed up the installation. This means deleting old files and uninstalling software you no longer need.
You'll also want to defragment your hard drive, a process that organizes how data is stored on your hard drive so it can create, open, and save files faster. Defragmenting a drive is as easy as pressing the Windows button and typing Defragment and Optimize Drives. From there, just select the hard drive, click Analyze, and if the drive is more than 10% fragmented, press Optimize.
2. Run Windows Update Troubleshooter
If faulty software components are causing installation problems, Windows Update Troubleshooter may be able to fix the issue and decrease download and install times. Simply press the Windows button and type Troubleshoot Settings. That will open a new window with an option for Windows Update.
3. Disable startup software
Before your update begins, you should also disable third-party applications that might cause disruptions. To do this, press and hold Ctrl + Shift + Escape to access the Task Manager. In the window that opens, click the tab labeled Startup. This will show you all the apps that have permission to open themselves when you log in to Windows 10. Right-click any apps that aren't important and select Disable (don't disable Microsoft tasks) to speed up the update installation process.
4. Optimize your network
Sometimes, a faster connection is all you need. Consider upgrading to a fiber optic connection or purchasing more bandwidth from your internet service provider. It's also a good idea to use bandwidth management tools to make sure sufficient network resources are reserved for things like Windows 10 updates, rather than bandwidth hogs like Microsoft Teams or YouTube.
5. Schedule updates for low-traffic periods
Massive updates with long installation times are unavoidable sometimes. So instead of installing them during the day, schedule them for after hours when your computers and office network aren't in use. Go to Settings > Update & Security and specify when you prefer updates to be installed.
If you need help with any of the tips above, we're always here to help. Call us today to meet with our Windows specialists!
Published with permission from TechAdvisory.org.
Source.