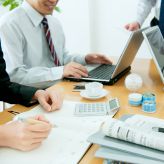 Technology can provide countless opportunities to streamline workflows, eliminate redundant processes, and reduce costs. If you're looking to stay ahead of the competition, simple technology strategies like the ones below can dramatically enhance your business performance.
Change office communication
To increase teamwork and productivity, set up instant messaging software such as Slack or Microsoft Teams. These platforms allow employees to communicate in real time instead of communicating through asynchronous methods like email. You can instantly send messages and share files in team chat rooms, saving precious time and allowing you to get more work done. This is especially useful in enabling communications when everyone is working remotely
Install video conferencing
Rather than spending hours getting to and from meetings outside your office, opt for a networked phone solution that offers video calls and conferencing. This way, you can hold a video conference to discuss business matters while in the office, at home, or abroad. You can also record the call so everyone can actively participate in the meeting and review important details for later without having to pause to take notes.
Implement ERP software
Enterprise resource planning (ERP) is a type of software that organizations use to manage various business processes like accounting, project management, and supply chain management. ERP software provides employees with up-to-date business information that they can easily access and use. It eliminates redundant data entry and reduces the number of spreadsheets that are used to record critical business data by storing information in a centralized database.
Once information is in one place, managers have complete visibility across departments, allowing them to make smarter decisions and eliminating organizational silos. For example, supply chain managers can quickly detect when store shelves need to be replenished and send purchase orders to accounting teams for approval.
Upgrade workstations
Outdated technologies and workstations limit your business's progress, and are a hindrance to developing clued-up, efficient employees. Aging systems and slow networks can frustrate your team and hamper productivity.
That's why it's important to thoroughly assess your current workstations, applications, hardware, and tools. While this doesn't mean that you have to buy a new set of workstations for your entire company, you should at least replace obsolete equipment with more modern machines In addition, make sure all software and applications are up to date to ensure maximum efficiency and employee satisfaction.
To get the maximum return on your technology investment, it's also important to partner with a knowledgeable and reliable service provider. Get in touch with our IT experts today to find out how we can implement technology to help your employees become more efficient and productive.
Published with permission from TechAdvisory.org.
Source.