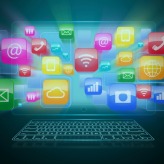 Chrome is the most-used web browser on the planet. It's already powerful on its own, but with the thousands of add-ons in the Chrome Web Store, you can further enhance its functionality. Today, there's an extension for almost every need, and it can be quite overwhelming and time-consuming to choose the right ones. But don't fret. We've hand-picked the six must-have Chrome extensions so that you don't have to sift through the whole catalog.
BlockSite helps you stay focused by blocking any distracting or harmful websites. If you're in front of the computer all day, it's the perfect solution to stop getting sidetracked by the many wonderful things on the internet. Essentially, BlockSite restricts access to websites that can cause your productivity to dip, particularly social media sites like Facebook, YouTube, and Twitter. If you don't want to completely block these sites, you can schedule limited access to them; for instance, during your breaks.
AdBlock claims to be the most popular extension for Chrome. It has over 10 million active users — and for good reason. In a virtual world full of advertisements, AdBlock offers a break by blocking most ads from showing up on the screen. It also prevents shady, malware-ridden advertisements from popping up, which helps keep your browser speeds at optimal levels and improve your overall experience.
Remembering passwords can be quite a headache; good thing there's LastPass. It's a great alternative to Chrome's integrated password manager, and it generates new and secure passwords every time you log in to a website. It can also sync your passwords across devices, enabling you to easily access your accounts, enter credit card details, and fill out online forms with just a few clicks.
Never lose anything on the internet again with Evernote Web Clipper. While you can mark sites using Chrome's bookmark feature, Evernote is an even more powerful option: it allows you to quickly and easily save web content from Chrome and transfer it straight into your Evernote account. With the press of a button, you can grab an image from any web page, make annotations, create summary links, and save a distraction-free version of that page for later use.
Pocket is another way to keep track of your favorite web content. With this extension, you can save articles, videos, and web pages for later viewing. Simply hit the Pocket extension button when you come across something interesting and that page will automatically be synced across all your devices, so you can view it at any time, even without an internet connection. If you come across something interesting but can't waste time because of a pressing task, keep the web page in your Pocket for later.
Momentum is a custom page that replaces the default Chrome landing page. Equipped with a personalized dashboard that features a beautiful scenic background, a daily inspirational quote, a weather report, a to-do list, and widgets for your favorite sites, Momentum could just be the dose of inspiration you're looking for.
Learn more about the different productivity apps the Chrome Web Store has to offer. Get in touch with our experts today.
Published with permission from TechAdvisory.org.
Source.