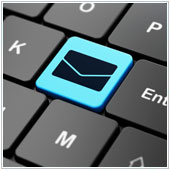 Servers can host almost every type of business program, with email being one of the most common. Businesses commonly install email servers on-site and use Microsoft Exchange as their software. But if you're looking to save on infrastructure costs, consider hosted Exchange. Here's what you need to know.
What is Microsoft Exchange?
Microsoft Exchange is a messaging system that offers businesses various services, such as email, calendar, task management, address lists, and more. By integrating Exchange into your business processes, you can access all of these services from any location, on almost any internet-connected device.
Many companies that purchase Exchange install it on on-premises servers. This setup can be costly, especially for small businesses. Moreover, the server needed to host it can take up a significant amount of physical space. This is why other companies prefer to operate on cloud-based systems.
What is hosted Exchange?
To meet the demands of various businesses, many IT services providers started offering hosted Exchange. In this setup, your IT provider allocates some space on one of their servers. They then install Microsoft Exchange in a space accessible only to your company, over an internet connection. The provider is in charge of ensuring that the data stored is secure and accessible to you at all times. Some hosted Exchange providers also offer extra features like improved security, full-time management, and data backup.
In other words, hosted Exchange is the cloud-based version of Microsoft Exchange. You and your employees will still be able to access hosted Exchange as if it were installed on an in-house server.
Benefits of hosted Exchange
Companies looking to integrate hosted Exchange into their business can enjoy the following benefits:
Predictable and lower costs
Like many other hosted services, the majority of hosted Exchange services are offered on a monthly, per-user basis, inclusive of hosting and maintenance. This makes costs predictable as you'll be paying a fixed fee.Hosted Exchange also lowers overall costs. If you calculate the cost of purchasing a new server, Microsoft Exchange, and supporting infrastructure, plus maintenance fees, the total and per-user cost will add up quickly. For many small businesses, paying a fixed monthly fee will be far more cost-efficient than hosting a Microsoft Exchange solution in-house. What's more, you save money on future expenses such as hardware replacements and new software licenses.
Easier implementation
Implementing Microsoft Exchange in your office would require you to allocate physical space for the server and to install the server and Microsoft Exchange. On top of this, you also have to manage Exchange and add new accounts and users. In case the service goes offline, you'll have to troubleshoot it yourself. But with a hosted Exchange solution, your IT partner will take care of hosting, management, and installation, so you can focus on more important business matters.
Flexible solutions
Growing businesses may find it difficult to scale up or down on an in-house Microsoft Exchange solution due to the server's limited capacity. With hosted Exchange, you can simply contact your provider whenever you need to adjust your server requirements. The hosted Exchange provider can also help scale your solutions in case you move offices.
Looking to learn more about hosted Exchange and how your business can benefit from it? Talk to us today!
Published with permission from TechAdvisory.org.
Source.