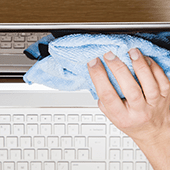 Regular maintenance and continuous monitoring are key to making sure your hardware runs optimally. These tasks usually fall on IT staff, but by following these tips, you can help your IT team prolong the life of your computer equipment.
✓ Clean your computer components
Wipe down monitors with a clean, static-free, non-abrasive fabric such as computer component-specific microfiber cloth. You can use the same type of cloth to wipe down mice and other peripherals, but for those tight nooks and crannies such as your keyboard surfaces, a can of compressed air will do the job.
Regular wipedowns are good because dust buildup can block computer air vents and affect their performance. Also ensure that your workstations are getting adequate ventilation and don't get direct exposure to sunlight and other heat sources.
✓ Manage your cables
If you're not giving your computers' cables the attention they deserve, now's a good time to do so. Aside from wiping the thick coat of dust off of computer cables, consider using cable management solutions that unclutter and untangle messy wires. Cable organizers don't just organize and secure your cables, they also help ensure your PCs run quieter and are less prone to overheating as a result of blocked air vents.
Planning to relocate or upgrade in the near future? Organizing your computers' cables now will make future relocation and upgrading processes much easier.
✓ Review and update your inventory
Keeping stock of all your hardware helps you manage hardware life cycles and purchases, identify items that are near their end of life, and ensure you avoid duplicate purchases of items already in stock.
Your inventory list should include all owned and leased devices: PCs and laptops, printers and scanners, tablets and smartphones, and modems and other network hardware. Update all your assets' serial numbers and keep track of their respective users and location.
✓ Maintain your printers
Clean the interiors and exteriors of your printers, including paper trays, which are sure to have accumulated dirt from years of use. You should also repair and/or replace parts and accessories such as print heads and cartridges that are no longer in good condition. Should you decide to do a complete printer maintenance, check for the latest software updates for your printers and install them immediately.
✓ Implement a hardware policy
This is also a good time to create a technology guideline that your employees can follow to ensure they work efficiently. These guidelines reduce the need to spend on unnecessary repairs, keeping the succeeding year's checklist shorter. With clear instructions on the proper use, replacement, and storage of your hardware and devices, you'll be better able to manage your hardware for years to come.
With a more organized IT hardware inventory, you have one less thing to worry about. Want to get more in-depth hardware management advice? Call our experts today.
Published with permission from TechAdvisory.org.
Source.