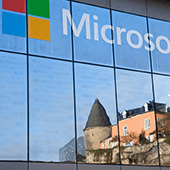 Microsoft's newest operating system (OS) was released back in October 2021, but most Windows 10 users still haven't upgraded to it. If you're one of the many who still haven't installed Windows 11, these must-know facts about the latest OS might convince you to upgrade.   
Windows 11 is relatively new to the market, so it's no surprise that users have plenty of questions about it. From what Windows 11 is to how to install it, here is a list of everything you need to know about the new Microsoft OS.
What makes Windows 11 different from Windows 10?
Microsoft promises to improve its OS with every release, and that's also the case with Windows 11. It features refined power and security features and redesigned key visual elements that give the OS a more modern look. It is also packed with new tools, apps, and sounds that come together cohesively to give you a refreshing PC experience.
Does Windows 11 take up more PC space than Windows 10?
No. Both versions of Windows require approximately the same amount of disk space. However, you will need extra space in your PC during the upgrade process. After about 10 days upon completing the update, Windows will clean up this extra disk space.
When can I get a PC that comes with pre-installed Windows 11?
Windows 11 is pre-installed on PCs that were available before the end of 2021, as well as on all new 2022 PCs. Older models with Windows 10 will be able to upgrade to Windows 11, given that they meet the minimum hardware specifications necessary to run the latest Microsoft OS.
What are the minimum hardware requirements for Windows 11, and how do I know if my PC meets them?
You can check the complete list of Windows 11 minimum hardware requirements here. 
To see if your PC meets these specifications, download and run the PC Health Check app. Apart from providing a comprehensive eligibility check for your device and giving information on why your device is or isn't eligible, it will also tell you what you can do if your device doesn't meet the minimum specifications. 
Will my current accessories work with Windows 11?
All accessories that work with Windows 10 and meet Windows 11 specifications should have no problems working with Windows 11. To be sure, you can always check with the manufacturers.
If my Windows 10 device meets the minimum requirements, when will I be able to upgrade to Windows 11?
While the Windows 11 rollout is expected to be completed in early 2022, it is already available for most of the devices in use today. But because not all eligible Windows 10 devices will be offered the update at the same time, you should run the PC Health Check app on your device to see if Windows 11 is already available.
What if I want to install Windows 11 on my compatible device but the upgrade isn't available to me yet?
The good news is that you can install Windows 11 on your eligible PC without waiting for Microsoft to offer the OS to you. From the official Windows 11 download page, simply choose how you'd like to install the update. The best and easiest installation option for most people is via Microsoft installation assistant, but there are also options for installing through a bootable USB, a DVD installer, or a disk image ISO.
What should I do if my PC doesn't meet the minimum hardware specifications?
If your PC is not eligible for a Windows 11 update, don't fret. You don't necessarily have to buy a new PC — at least not yet. You can stay on Windows 10; it remains a great version of Windows and it will be supported until October 14, 2025.
How much is the Windows 11 upgrade?
Upgrading to Windows 11 is free for PCs running the most current version of Windows 10 and have the right hardware specifications. To check if you're running the latest Windows 10 updates, go to Settings > Windows Update. 
Note that the free upgrade offer doesn't have a specific end date, so there's no saying how long it will last. It is within Microsoft's right and discretion when to cancel the free offer, but the end date should be no sooner than one year from Windows 11's general availability.
If I'm eligible for Windows 11 but decline the upgrade, can I upgrade later?
Definitely. You can upgrade anytime by simply going to Settings > Windows Update.
What will happen to my files when I upgrade to Windows 11?
All your data will transfer by default when you install Windows 11. However, it's recommended that you back up your files first before installation so you can have a copy of these in case anything goes wrong. Learn more about how to back up your data using OneDrive PC folder Backup here.
If I upgrade to Windows 11 but don't like it, can I go back to Windows 10?
Yes. Within 10 days of installing the Windows 11 upgrade, you can easily return to Windows 10 while keeping your files and data. To do so, go to Start > Settings > System > Recovery, then click on Go Back.
After 10 days, the "Go Back" option will no longer be available, and you will need to back up your data so you can do a clean install of Windows 10.
These are just some of the questions most users ask about Windows 11. If you have any more queries about the latest Microsoft OS, don't hesitate to give our experts a call.
Published with permission from TechAdvisory.org.
Source.