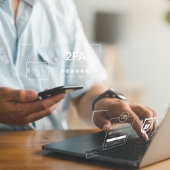 Both two-factor authentication and two-step authentication are processes that can help keep your business safe from data breaches. But while they serve the same purpose, these two methods are vastly different. In this blog post, we will discuss the differences between two-factor authentication and two-step authentication, as well as the benefits of each process.
According to the Allianz Risk Barometer, businesses are more worried about cybersecurity threats compared to other business disruptions like supply chain issues, natural disasters, or even the COVID-19 pandemic. This is why business owners are ramping up data security measures. One way they do this is by implementing two-factor and two-step authentication. Many businesses use the two terms interchangeably, but these processes are quite different.
Two-factor authentication
Two-factor authentication (2FA) is a security measure used to ensure that people trying to access a system are who they say they are. 2FA requires users to provide two pieces of information before being granted access.
When you try to log in to a system that uses 2FA, you'll be asked to provide not only your password but also another piece of information or form of identification. This second factor can be something you know, like a PIN or a security question, or something you have, like a physical token or key fob. If you have the correct password and the second piece of information, then you'll be granted access to the system. Because of the additional authentication information required, hackers would have great difficulty breaking into a network using a 2FA system.
Two-step authentication
Two-step authentication (2SA) is an extra layer of security that can be added to your online accounts. 2SA requires you to enter both your password and a code that is sent to your phone or email before you can log in.
Adding 2SA to your online accounts can help protect your information from being hacked. Even if a hacker knows your username and password, they will still need the code that is sent to your phone or email before they can log in to your account.
There are a few different ways to set up 2SA. Some websites, like Google and Facebook, offer 2SA as an additional security measure that is especially useful when you or someone else is trying to log in using a new or different device. Others, like Dropbox and Twitter, require you to set up your authentication profile in the settings page before you can use their app. A 2SA setup is typically quick and easy, and only requires you to have your phone or email immediately accessible when you log in.
Which one is better?
Relying on a single-factor authentication process is no longer sufficient in ensuring the safety of your network. Securing the authentication process and making it difficult for cybercriminals to access your network should be on top of your priorities. Deciding whether to use two-step or two-factor authentication largely depends on your business's specific security requirements. To take the stress out of choosing which between the two methods better suits your needs, call us today for expert cybersecurity advice.
Published with permission from TechAdvisory.org.
Source.